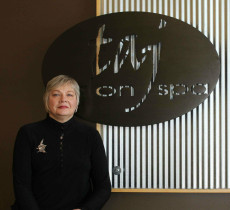 Deb is a licensed 2009 graduate of The Aveda Institute and has her Post Graduate certificate from the International Dermal Institute. Her advanced training includes skin analysis, speed waxing, Ayurvedic and Chinese diagnosis for the face and body, Reflexology and Aromatherapy. Years spent working in the corporate setting impressed Deb with the effect stress plays in the health of the skin and she is focused on making the client's experience relaxing and informative. Deb does LOVE to do it all but especially learning about her clients skin and teaching them how to keep it healthy and happy. For years Deb has pursued her interest in homeopathy and herbal treatments for common and uncommon skin issues and individual health, and she is confident the product lines offered at taj salon spa are the best available. Her commitment to wellness includes support of the local arts, especially the Open Eye Figure Theatre, and the Diamond and Pearls Project which helps local young women find the prom dress which otherwise might have been out of their reach. Come in today and let Deb help you find the right products to support the health of your skin.
Schedule:

Monday:

2pm-9pm,

Tuesday:

8:30am-1:45pm,

Wednesday:

2pm-9pm,

Thursday:

2pm-9pm,

Friday:

8am-1:45pm,

Saturday:

OFF,

Sunday:

OFF
Image Not Found!
Image Not Found!
Our Vision Statement
At taj salon & spa, we are a professional, life changing team that exceeds expectations. We are innovative and passionate individuals, always seeking advanced knowledge while caring for our community and our earth.