Debbie - Massage Therapist, Aesthetician and Spa Manager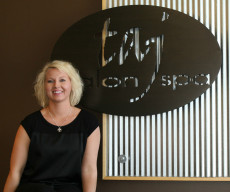 I have been a Licensed Esthetician for 3 years. Prior to obtaining my esthetician license I was a certified Massage Therapist for 8 years, working with Eminence Organic Skin Care. Due to my massage background I have the perfect touch for a fantastic face massage! Beyond facials I also love waxing, body waxing being my favorite! I love to do Eminence facials and Dermaplaning with an ion active treatment!! I have a true passion for continuing to educate myself every day to better serve all my guests skin needs!
Schedule:
Monday:
8:30am-1:45pm
Tuesday:
2pm-9pm
Wednesday:
8:30am-1:45pm
Thursday:
8:30am-3pm
Friday:
2pm-8:30pm
Saturday:
8am-5pm (E/O)
Sunday:
OFF
Image Not Found!
Image Not Found!
Our Vision Statement
At taj salon & spa, we are a professional, life changing team that exceeds expectations. We are innovative and passionate individuals, always seeking advanced knowledge while caring for our community and our earth.