Kelsey L. - Massage Therapist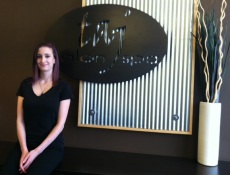 I recently started at taj and have been in the industry for almost two years. I have advanced education in hot stones and received my certificate of 600 hours. I also love to specifically do deep tissue massage. A few years ago I had an athletic injury and I decided to get a massage, it was the best thing that I could do for myself. So here I am three years later, helping others feel as good as I did after my first massage.

Schedule:
Monday

4pm-9pm,

Tuesday

8:30am-3:30pm (every other until 1:30pm),

Wednesday

2pm-9pm,

Thursday

OFF,

Friday

OFF,

Saturday

8am-5pm,

Sunday

11am-5pm.
Image Not Found!
Image Not Found!
Image Not Found!
Our Vision Statement
At taj salon & spa, we are a professional, life changing team that exceeds expectations. We are innovative and passionate individuals, always seeking advanced knowledge while caring for our community and our earth.