Kristen - Stylist, Salon Manager and Nail Technician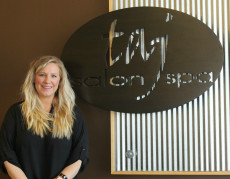 Hi, my name is Kristen and I was born and raised in Brooklyn Park. I didn't venture too far from home when I joined taj salon & spa's team in July of 2007. I graduated from the Aveda Institute in Minneapolis the summer of 2006 and have been enjoying my career ever since!
I regularly attend advanced education classes to keep me up to date on all the latest trends. These include quarterly Aveda trends, Summit business classes and I attended the Unite Academy in San Diego in March of 2010. Hair color is my passion, and I tend to favor blondes! Spring/Summer is one of my favorite seasons as we are booked with a lot of bridal parties. I love helping brides look and feel great on their special day! I love what I do, and I look forward to delivering an exceptional service to you!
Schedule:
Monday:
3pm-9pm (3 mondays a month)
Tuesday:
8:30am-1pm (E/O 3pm-5pm)
Wednesday:
3pm-9pm
Thursday:
8:30am-2:30pm
Friday:
8am-2pm
Saturday:
8am-5pm (1 saturday a month)
Sunday:
off
Image Not Found!
Image Not Found!
Image Not Found!
Our Vision Statement
At taj salon & spa, we are a professional, life changing team that exceeds expectations. We are innovative and passionate individuals, always seeking advanced knowledge while caring for our community and our earth.