Purchase a gift card for our Brooklyn Park location here!
Our gift cards never expire and you can reload them anytime for any amount you choose! They are redeemable by purchase of any of our well known product lines or first class services. You can easily purchase your gift cards online. We will send the card to any address you specify within 1-3 days from when you purchase it. Discount not available with this option.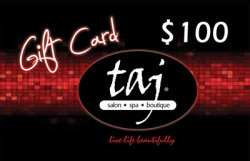 Now you have the option to print your gift cards from home!
Design your gift certificate from one of our many templates great for any occasion, preview it, and then send or print it immediately. It's fast and easy.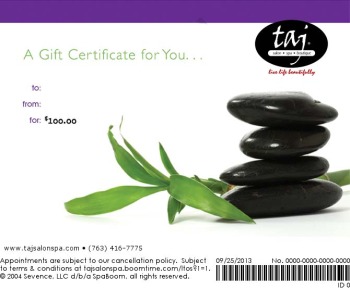 Click here to get your gift cards instantly!
Our Vision Statement
At taj salon & spa, we are a professional, life changing team that exceeds expectations. We are innovative and passionate individuals, always seeking advanced knowledge while caring for our community and our earth.